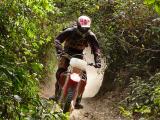 Level - Intermediate/Expert
Itinerary
Day 1: Siem Reap
Airport transfer/getting settled into your hotel and meeting fellow riders, then off to the temples for the day. We will arrange a guide and transport for you, so you have a chance to learn about this amazing country's history. Then we'll meet for an evening meal, and go through the tour itinerary. You will be staying in a comfortable boutique hotel.
Day 2: Siem Reap to Preah Khan
We'll make our way east through windy single track to the remote temple of Preah Khan, where we will stay for the night. Accommodation for tonight will be a home-stay so you can really experience Cambodian life.
Day 3: Preah Khan to Stung Treng [or Kompong Sra Lao]
Today there are two destination options depending on the preference of the group. For the more experienced we can take sandy single track through the forests, with the option of jumping on red dirt if the group gets tired, up to Kompong Sralao on the Lao border. Or there is a slightly easier route through jungle trails then red dirt to Stung Treng. A ferry crossing over the Mekong will take us to the gateway of the mountainous hill tribe areas. Staying in a hotel with air-con and hot water. [There is an option for a home-stay which is an extra 30 kilometers ride near the Laos border.]
Day 4: Stung Treng [or Kompong Sra Lao] to Ban Lung
We start the day on red dirt roads heading north if coming from Stung Treng or east from Sralao, we ride close to the Laos border. Then its about 70km of deep, sandy single track through the jungle for some spectacular riding. After several river crossings the terrain starts to get more mountainous before we arrive in Ban Lung, the capital of Ratanakiri province. After some long, hard riding you'll be looking forward to a well earned rest. We'll be staying in a beautiful hilltop hotel with some awesome views.
Day 5: Ban Lung to Sen Monorom
This route used to be known as 'The Death Highway', and depending on conditions can be very challenging. However a lot of the old trail has been tarmacked so riding the highway is unavoidable in some spots. There are however enough awesome trails, lots of sand [or mud depending when you go] to keep you happy. A long day in the saddle will get you to Sen Monorom; capital of Mondulkiri Province. A cooler climate with lovely rolling hills lead to some great riding towards the end. Depending on the time of year will depend on the route we take as during the wet season some of the hills get so slippery it's like riding on ice. There is the option to jump on the highway if the group deems necessary. Staying in a hotel with air-con and hot water. [option for a luxury resort - after 5 days in the saddle it is a worthy treat!]
Day 6: Sen Monorom to Snuol
Today will be quite a challenging ride. The forest trail we'll be riding is only around 50km, but there will be sand, maybe some mud, and rocky climbs and descents. Then it will be a short highway section to Snuol; our stop for the night. If we make good time there is also the option to head towards the Vietnamese border through rubber plantations. We will be staying in a hotel with air-con.

Day 7: Snuol to Kampong Cham
More scenic today with small river crossings, forest trails and rubber plantations, which will lead us back to the Mekong, which we'll follow into Kompong Cham and civilization...sort of. Staying in a hotel with air-con and hot water.
Day 8: Kampong Cham to Phnom Penh
Today will be more easygoing, following the Mekong river back into Phnom Penh, where the tour finishes, and a well deserved beverage! Options to either try your hand at the shooting range with AK-47 or an RPG, or a slightly more chilled option; a relaxing river cruise at sunset on the Mekong river to round the tour off.
TERRAIN
sandy single track, rocky climbs, unsealed red dirt roads, rutted clay roads
BIKE
Honda XR250R
INCLUDED
airport transfer, welcome meal, XR250R, riding gear, petrol, twin accommodation, entrance and river crossing fees on riding days, English speaking guides, full support throughout the tour, sweeper for groups of 3+, hammocks and mosquito nets if needed, guide and transport for Angkor Wat
NOT INCLUDED

food, drink, personal insurance, bike insurance, bike damage, flights, visa, personal expenses, Angkor temple pass
OPTIONAL EXTRAS

XR400 upgrade - $40 per day
WR250F/CRF250 upgrade - $60 per day
WR450F/CRF450/KTM450EXC upgrade - $80 per day
upgrade to a luxury resort in Mondulkiri / zip-lining over Bou Sraa waterfall / single room accommodation for an extra $15 per day / include meals for an extra $20 a day / 4x4 support vehicle for backup, breakdowns, luggage for an extra $150 per day / third party liability insurance on the bike per day (international motorcycle license required) / roughing it in the jungle option [hammocks/tents] / boat cruise on the Mekong / shooting range