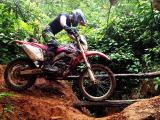 Level - Intermediate/Expert
Itinerary
Day 1: Siem Reap to Battambang

 We will leave Siem Reap on a mixture of red graded dirt roads and sandy single track that cut through the surrounding countryside. We will cut across the North of the Tonle Sap on some fairly chopped up trails. There will be some fast riding on the open flood plains in parts but some serious ruts so we have to go a bit carefully. Then a series of rice fields and single track that will take us to Kamping Poy; a Khmer Rouge era dam before our stop for the night. We will be staying in a nice hotel with a pool.
Day 2: Battambang to O Soum

 Riding today will be a mixture of dirt roads and windy single track in the morning, and then picturesque, dirt roads with several steep climbs as we head into the Cardamoms. The route we used to take has been recently graded, but don't worry as there is a new forest section, with lots of rocks, ruts and roots to keep you entertained. We will be staying in the mountain village of O Soum in a local guesthouse.
Day 3: O Soum to Koh Kong
 Today the riding isn't as technical as we have to jump on the graded Chinese built dirt road that links the new hydropower dams. The old route was so mashed up that only a few groups would make it and since then most tour groups use the Chinese road, so it has become impassable. There will be some amazing views and the riding is still entertaining; if you lose your concentration for a second you'll be down a gulley! There are a couple of sections that are a bit more chopped up with some nice climbs/descents. Unlike the ride in June we are planning to extend the ride after the big river crossing. There are a couple of options: either more graded roads or more technical riding. We will see how the group feels. This extension should bring us in to Koh Kong around 4pm. A nice hotel overlooking the estuary near the Thai border will be our accommodation for the night.
 Day 4: Koh Kong to Chipat
 If you want extreme we have several technical climbs for you, lots of dodgy bridges, slippery single track and river crossings. This is probably one of the best trails through the Cardamons. We will be staying in a charming rural village homestay in the village of Chipat, which is the gateway to the Aural National Park. There are rapids nearby where we can end the day with a nice refreshing swim.
Day 5: Chipat [rest day]
 After four tough days riding you'll be needing a little R&R. As will the bikes, so we'll be doing some work on them while you can just relax or check out some of the nearby waterfalls and rapids. We can arrange a boat trip down the nearby river or there are loads of great trails you can explore yourself, or with one of us. Chipat is the gateway to some of the most untouched parts of Cambodia, with new species being found all the time. This is rapidly changing with the onset of deforestation & development in the region.
Day 6: Chipat - Kirirom

 Today there is a wide range of terrain; More rocky climbs, single trail, slippery forest trails and fun river crossings. The day will start on single track, which will be sandy or muddy depending on the weather, and as the day goes on will become more challenging with some nice technical sections as we near Kirirom National Park. Here you have the option to camp or stay in a nice air-con hotel with a pool. A fun ride today!
Day 7: Kirirom - Kep

 Today we will follow the Elephant Mountains down to Kampot. There are a couple of fun hill-climbs we can have a go at that reward amazing views of the surrounding countryside. Then, sandy single track and rocky trails as we head south and join the Kampot River into town. After which we will either cut through the pepper plantations of Phnom Voar, or depending on time jump on the tarmac for the last 25km to Kep.
Day 8: Kep: Rabbit Island

 In the morning we will jump on the boat to the tranquil Rabbit Island with its pristine beaches and rustic guesthouse. We'll Leave the bikes on the mainland and take a fishing boat out onto the gulf of Thailand. Enjoy the beach and delicious, fresh seafood and relax. You deserve it!
Day 9: Kep - Phnom Penh

 Once we get back onto dry land, the final day will be a mixture of sandy single track, dirt roads, as we make our way along the coast and then through Phnom Voar Mountain. We will cut across land ton some great sandy single track that follows a small Mountain Range that takes us from Kampot to Takeo Province. Nearer Phnom Penh, we will have to jump on dirt roads, and the final stretch will be tarmac. If there is time we can visit the Killing Fields [Choueng Ek] en route before we arrive in Phnom Penh. There is an option to have a sunset boat cruise on the Mekong River. This will depend on the time we arrive back. Accomodation is a nice comfortable hotel.
TERRAIN
single track, technical rocky climbs, clay rutted road, hill climbs, sand, mud, river crossings, makeshift bridges
BIKE
Honda XR250R
INCLUDED
airport transfer, XR250R, riding gear, petrol, twin accommodation, entrance & river crossing fees on riding days, English speaking guides, mechanics & full support throughout the tour, sweeper for groups of 3+
NOT INCLUDED
food, drink, personal insurance, bike insurance, bike damage, flights, visa, personal expenses, Angkor temple pass
OPTIONAL EXTRAS
Honda XR400 upgrade - $50 per day
Yamaha WR250F/Honda CRF250 upgrade $60 per day
Yamaha WR450F/Honda CRF450/KTM 450EXC upgrade $80 per day
single room accommodation for an extra $15 per day / include meals for an extra $20 a day / 4x4 support vehicle for backup, breakdowns, luggage, refreshments for an extra $100 per day / third party liability insurance on the bike per day (international motorcycle license required) / roughing it in the jungle option [hammocks/tents]